MAICO GERMANY
Well Being Through Good Quality Air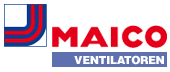 Innovative technology, high quality and outstanding design are the cornerstones of the product and brand philosophy of the long-standing family-owned company.
MAICO was founded as Maico Elektroapparate-Fabrik GmbH in 1928 by Christian Maier in Schwenningen, Germany. Over more than 75 years the company has constantly adjusted to the changing requirements of the market and its growing internationalisation.
MAICO concentrates on the development, production and sale of fans and components for ventilation engineering and domestic ventilation systems.
Offering 1,600 products and variants, MAICO branded company has an extensive product range for a multitude of applications and areas of use.
The company's products are well-known for their outstanding quality and reliability which have brought it an excellent reputation around the world.
Numerous design accolades prove that form and function are compatible. The MAICO name is also highly valued amongst customers as a fair and predictable partner.
The MAICO brand is synonymous with experience and quality in numerous ventilation applications. The company's staff are committed to helping customers find well-being through good quality air.